October 27, 1938 Trusler Hardware Co. ran an advertisement in the Eskridge Independent that on Saturday October 29, 1938, after 58 years of business, they were having a Closing-Out Sale. Trusler Hardware Co. was one of the first businesses in town being established in 1880. They sold everything from kitchen dishes to guns and ammunition! The beautiful building is still standing today located on Main Street.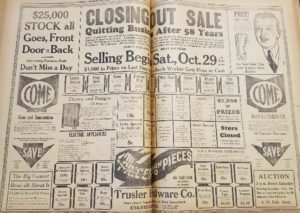 Friday, October 16, 1953 Eskridge Rural High School hosted their Homecoming Football Game against Rossville High School. Eskridge was undefeated at the time this advertisement was published!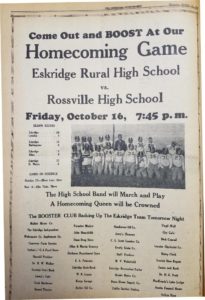 On October 21, 1965 the below article ran in the Eskridge Independent reporting that the ponies of the community were feeling a little fresh as there were 4 reports of injured people while handling/riding their horses. Thankfully none were life threatening injuries!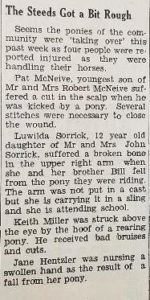 October 27, 1990 was the date the Eskridge Fall Festival was to be held. Activities, as seen in the below article, included Arm Wrestling, a Bake Sale, a Pumpkin Decorating Contest, and more!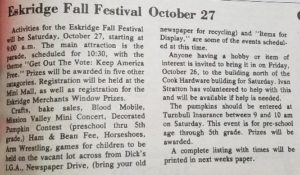 Be sure to visit the Community Events tab on our website for more information regarding this years Eskridge Fall Festival!