CURRENT HAPPENINGS AROUND TOWN
The Labor Day Rodeo came and went with fun times and a big crowd!
A Neighborhood Watch Program is being organized and is currently taking volunteers.
The annual Rabies Clinic will be held on September 23rd from 3-4:30pm at the Eskridge Firehouse.
Friday September 29th a high school pep assembly will be held at 3pm for Homecoming and the High School Football team plays Osage City at 7pm.
THIS MONTH IN HISTORY
On Wednesday September 8, 1920 it seems as though the town was excited for the upcoming football season. According to the below article from The Eskridge Independent, the Eskridge High School team looked incredibly promising!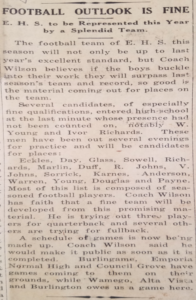 Eskridge was getting ready for the Ninth Annual Fall Carnival and Farm Fair which was held on Friday, September 23, 1932.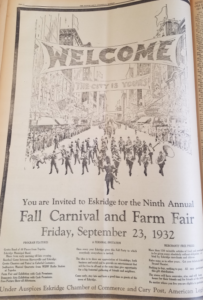 As school started in 1966 The Eskridge Independent reported all of the upcoming school social events such as the Future Farmers of America (FFA) first meeting.
And the Mission Valley Vikings take the victory against the Wabaunsee Chargers in high school football on September 29, 1977!